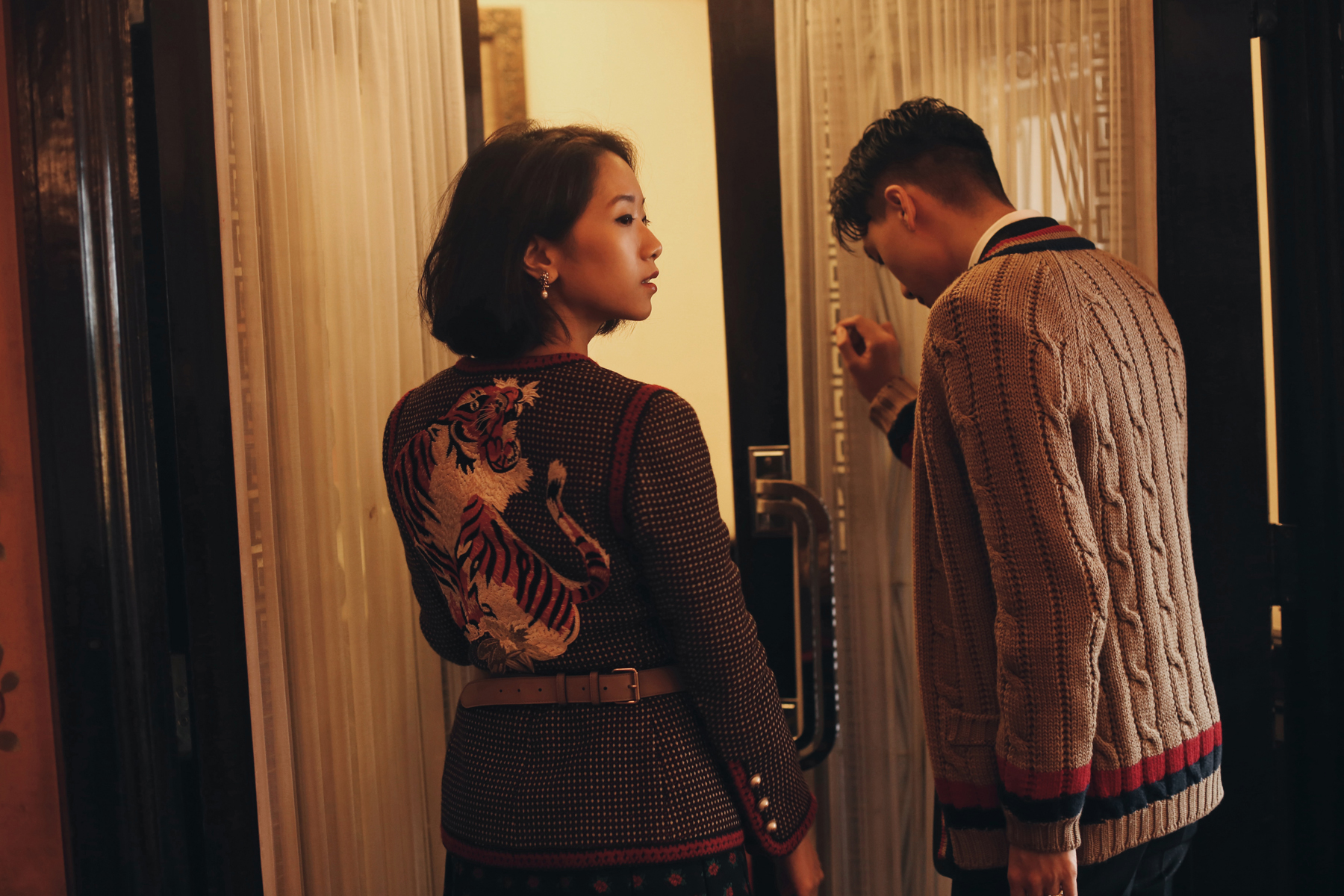 We are bloggers, we are multitaskers. We are sometimes stylists, sometimes designers or photographers. Today, we are librarians.
Veronica Li Cheung owns and runs vnikali.com. The first-wave Hong Kong female blogger shares her creative styling ideas and lifestyle as a happily married wife. In this generation, not only bloggers, we are all multitaskers. How much duties you are handling at the moment? Me and Veronica's chemistry lies on our common persistence in photography, or even web design and video editing. Apart from doing them ourselves, we decided to influence with our determination, taking charge of our own duo editorial.
Wearing the trending Gucci Pre fall collection, we transformed ourselves from bloggers to librarians, emerging in a stylish, bookish vibe. The comeback of fanny packs does not only limit to sportswear brands, styling them with formal attire can be chic, elegant and grand. What about adding a layering twist by putting a cardigan over a blazer? Surprising and eye-catching.
If we were born in a different generation, we wouldn't be bloggers but dedicated librarians enjoying every detail in each book. Dedication, is probably something that we have been missing as multitaskers in this age.
我們是blogger,我們是multitasker 。我們有時候是stylist,有時候是designer,有時候是photographer,今天我們是librarian。
Veronica Li Cheung是vnikali.com的博主,稱得上是香港第一代的blogger之一,醉心分享時尚配搭、生活品味以及現在的婚後點滴。我們這個世代,不止blogger,大家都需要做multitasker,你又同時身兼多少職?我們的默契來自執著,拍多了自己學起攝影來,甚至網頁設計、剪片等都要自己動手才滿意。我們決定要將這份執著交叉感染,自己主理一場雙人editorial。
穿起繼續大熱的Gucci早秋系列,我們由blogger化身復古的librarian,在圖書館裡尋找時尚書卷味。腰包回歸,也不止限於運動街牌,與正裝配襯顯得貴氣時尚。男生西裝造型的layering來個倒轉,cardigan在西裝外穿為造型添色彩。
若生於不同年代,我們或許不會是blogger,或許會是個專注的librarian,享受每本書每個細節。專注,或許就是我們這代multitasker所遺失的一種情操。